The hot-selling i-DR A302 is a dual fluid dispensing pump system for those who demand higher quality results and advanced rapid production throughputs. The A302 series is perfect for mid to low-value productions that need excellent precision.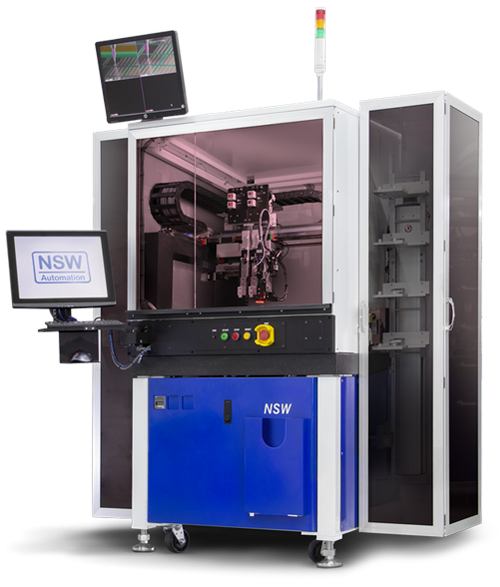 High
Flexibility
(Pump conversion)


Multiple Standard Compliance
(SMEMA, SECS/GEM)
The Supercharged
Dual Pump System
This automated dispensing handler is so fast and accurate. It stands between the precision of the A301 and the blazing speeds of A304. It has a high capability to handle mid-to-high complex dispensing forms, MEMs, and memory chip products swiftly. In achieving optimum productivity, this microplate dispenser is equipped with the most advanced fluid equipment dual-pump system that runs simultaneously. This system is easy to use and dynamically programmable via its dual 3-axis fully motorized robot on top of its solid production board.
Granite Base Structure
& with Precision Craftsmanship
The system built is fully enclosed with a cover onto a solid granite base and gantry, which is a popular type of felsic intrusive igneous rock that is granular and phaneritic in texture. Because of its stable and goliath features, it is used mainly in the construction industry. This material is forced between other layers of rock by the natural pressure under the Earth's surface. As a result, when compared to steel structures, granite delivers better performance in terms of stability, accuracy, and speed.
Vision Calibration System
Integrated with the advanced vision system to assist NSW pump heads, it quickly acquires the exact XY position of the dispensing location on a workpiece. This system enables you to achieve precise constant accuracy and eliminates system tolerances. The system can detect misaligned workpieces when a new workpiece is loaded into the system during a repeating dispensing process.
Lasered Height Examinations
Utilizing advanced laser beams enables the NSW dispensing handler to measure the surface height of the workpiece before any dispensing process begins. This non-contact measurement device helps you measure a variety of surfaces, including high-density holes, trenches, and cavity. It can determine surfaces like shiny metal to dark surfaces with extreme speed across all axis.
(Optional with confocal sensor systems)
More Features
& Characteristics 
Operating System
Windows® Operated
Handler Software
NDisp3 WIN
No. of Axis
6
Max Head
2
 XY Actuator
 Precision Ground Ball Screw
XY Accuracy

±10μm

 

(0.010mm)

Z Actuator
Precision Rolled Ball Screw
Z Accuracy

±10μm

 

(0.010mm)

XY Repeatability

±5μm

 

(0.005mm)

Z Repeatability

±5μm

 

(0.005mm)

XY Resolution

±1μm

 

(0.001mm)

Z Resolution

±1μm

 

(0.001mm)

XYZ Linear Encoder Resolution

0.5μm/Step

 

(0.0005mm) (Optional)

Board Length

Min: X-50mm   | Max: X-300mm

Board Width

Min: Y-40mm (Optional up to 24mm)    | Max: Y-210mm

Max Over Board Thickness

5mm

Max Under Board Thickness

3mm

Weighing Scale Resolution

0.01mg (Optional) / 0.001mg (Optional)