i-DR S350

| Desktop Dispenser
The i-DR S350 is CE certified, cost-efficient and an easy set-up desktop format precision fluid dispenser integrated with multiple advanced features.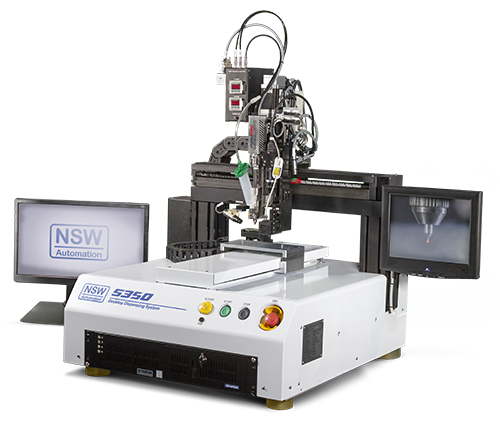 High
Flexibility
(Pump conversion)
Tiny Fluid Disepsing System
But Power Packed Features
The i-DR S350 is cost-efficient, mobile and suitable for R&D departments or small scale manufacturers. It is highly flexible and just as powerful as NSW's other advanced fluid pump dispensing systems. It comes with 3D dispensing, pre-dispense simulation, vision mapping, and calibration functions. It has excellent positioning capabilities via its closed-loop servo driven system combined with precision ground balls screws transmission mechanisms. Compared with other liquid drawing systems, this liquid dispenser is suitable to handle high mix/low volume production, R&D prototype sample production & repairing jobs in speedy setup and conversions.
Delivering Innovative Solutions
NSW provides technologically innovative, performance reliable, and distinctive encapsulation solutions to global users. Not only do we live up to our product standards and attained CE certification, but we have a team of professional and experienced R&D engineers. They are always researching and developing new fluid dispensing valve technology. With our capabilities and service results today, we can help you in resolving your specific dispensing challenges.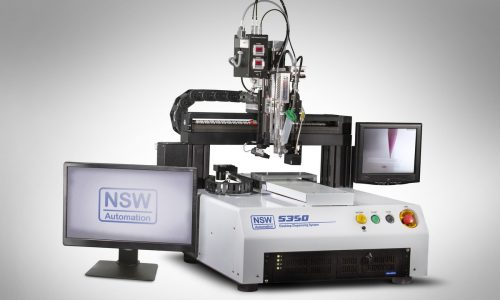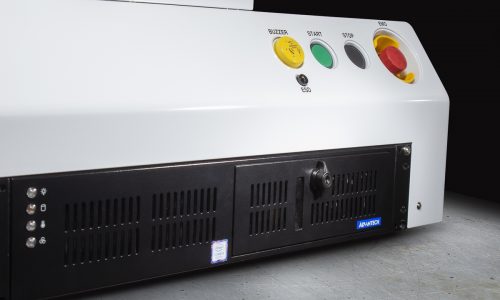 CE Enclosure Ensures Workforce Safety
Besides productivity and ease of use, safety plays a paramount role in keeping our workforce safe. The i-DR S350 features an optional full-range failsafe CE enclosure version that is completely CE certified. It automatically shuts down upon the detection of foreign objects or movement that is within the enclosed workspace.
Bigger Workspace To Get Work Done
It has a large 350mm x 350mm work area that can dispense on workpieces of any shape without any special jig required. Its compact size is designed for the highest flexibility and ultimate performance. This desktop format fluid pump dispenser allows engineers to conveniently dislocate it to any given location without consideration of space limitations.
. 
Vision Calibration System
Integrated with the advanced vision system to assist NSW pump head, it quickly acquires the exact XY position of the dispensing location on a workpiece. This system enables you to achieve precise constant accuracy and eliminates system tolerances. 

Lasered Height Examinations
Utilizing advanced laser beams enables NSW dispensing handler to measure the surface height of the workpiece before any dispensing process begins. This non-contact measurement device helps you measure a variety of surfaces. It can determine surfaces like shiny metal to dark surfaces with extreme speed across all axis.(Optional with confocal sensor systems)
More Features 
& Characteristics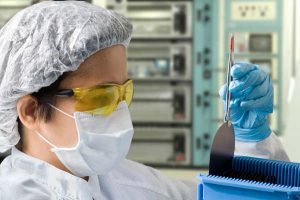 The R&D Lab series is design for clean room environment with a smaller footprint, this series has a larger dispensing working space enables engineers to work on a large wafer, testing device or workpieces. The system is space saving, flexible and convenient to utilize any dispensing application dynamically.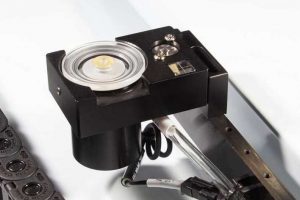 Equipped with automatic needle tip cleaner feature to remove any impurity and existing unwanted material after long operating hours. To improved performance, the needle can be automatically summoned for cleaning at any given interval of time.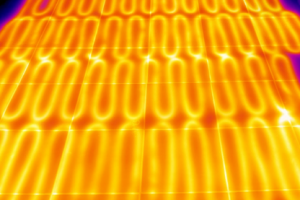 Integrated with Programmable workpiece heater to warm up any dispensing subject, board according to user's recipe. NSW advanced heater system is designed with industrial standard preciseness with its configurable temperature control capability it can maintain temperature consistently.
| | |
| --- | --- |
| Operating System | Windows® Operated |
| Handler Software | NDisp3 WIN |
| No. of Axis | 3 |
| Max Head | 1 |
|  XY Actuator |  Precision Rolled Ball Screw |
| XY Accuracy | ±20μm (0.020mm) |
| Z Actuator | Rolled Ball Screw |
| Z Accuracy | ±20μm (0.020mm) |
| XY Repeatability | ±10μm (0.010mm) |
| Z Repeatability | ±10μm (0.010mm) |
| XY Resolution | ±10μm (0.001mm) |
| Z Resolution | ±10μm (0.001mm) |
| XYZ Linear Encoder Resolution | N/A |
| Max Dispensable Area | 350mm x 350mm |
| Weighing Scale Resolution | N/A |
| Needle Tip XYZ Calibrator | Yes, Integrated |
| Needle Tip Vacuum Cleaner | Yes, Integrated |