This series is best for small scale dispensing productions with sharp precision on high-valued workpieces to match various types of miniaturized nanoelectronics devices' manufacturing needs.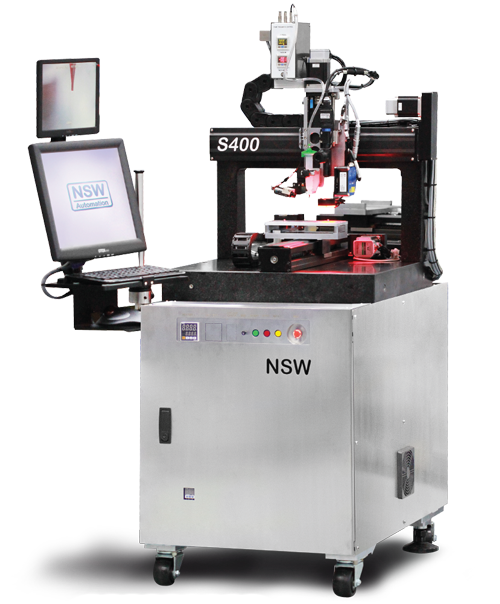 High
Flexibility
(Pump conversion)


Designed for
R&D Laboratory Environment
This NSW precision dispenser is perfectly engineered to handle extreme fluid dispensing applications. Its interchangeable flexibility of all NSW dispensing pump heads and valves increases productivity and makes multitasking tasks seem effortless. It is best for R&D departments that require a constant and stable amount of liquid dispensation, such as micron level dispensing, wafer-level packaging, and packaging of any miniature or microscopic devices. 
This dispenser controller even does pre and post inspections for you too. It has a sizable flat 320mm x 350mm work area that can dispense on workpieces of any shape without any special custom jig required. It is built with a fully enclosed cover onto a solid granite base and gantry, allowing it to deliver extremely stable and outstanding performance in terms of rapidity and overall accuracy. 
Granite Base Structure
& with Precision Craftsmanship
The system built is fully enclosed with a cover onto a solid granite base and gantry, which is a popular type of felsic intrusive igneous rock that is granular and phaneritic in texture. Because of its stable and goliath features, it is used mainly in the construction industry. This material is forced between other layers of rock by the natural pressure under the Earth's surface. As a result, when compared to steel structures, granite delivers better performance in terms of stability, accuracy, and speed.
Vision Calibration System
Integrated with the advanced vision system to assist NSW pump heads, it quickly acquires the exact XY position of the dispensing location on a workpiece. This system enables you to achieve precise constant accuracy and eliminates system tolerances. The system can detect misaligned workpieces when a new workpiece is loaded into the system during a repeating dispensing process.
Lasered Height Examinations
Utilizing advanced laser beams enables the NSW dispensing handler to measure the surface height of the workpiece before any dispensing process begins. This non-contact measurement device helps you measure a variety of surfaces, including high-density holes, trenches, and cavity. It can determine surfaces like shiny metal to dark surfaces with extreme speed across all axis.
(Optional with confocal sensor systems)
More Features
& Characteristics 
| | |
| --- | --- |
| Operating System | Windows® Operated |
| Handler Software | NDisp3 WIN |
| No. of Axis | 3 |
| Max Head | 1 |
|  XY Actuator |  Precision Rolled Ball Screw |
| XY Accuracy | ±20μm (0.020mm) |
| Z Actuator | Rolled Ball Screw |
| Z Accuracy | ±20μm (0.020mm) |
| XY Repeatability | ±10μm (0.010mm) |
| Z Repeatability | ±10μm (0.010mm) |
| XY Resolution | ±5μm (0.005mm) |
| Z Resolution | ±5μm (0.005mm) |
| XYZ Linear Encoder Resolution | N/A |
| Max Dispensable Area | 320mm x 350mm |
| Weighing Scale Resolution | N/A |
| Needle Tip XYZ Calibrator | Yes, Integrated |
| Needle Tip Vacuum Cleaner | Yes, Integrated |