The NSW HeliMASTER-3 fluid pump is a superior fluid delivery system operated with master-crafted auger screws to direct liquid dispensation.
Developed In-house
Crafted with Preciseness
The HeliMASTER-3 uses our superior auger screw technology that works excellently with medium to high viscosity materials. Besides using timed monitored pulsating pressure, it combines both air-pressure and rotating power that accumulates at its dispensing tip for fluid contact. This interconnection generates a force to move fluid swiftly and precisely.
Unique and compact with a quick latch type valve designed cartridge.

Dynamic programmable auger screw's rotation speed control (RPM)

Supports medium to high viscosity material, dispensable range up to 1,000,000 cps

Support standard syringe sizes from 5 cc up to 30 cc and has special configurable bulk feeding features

Adaptable with standard Luer lock type needles and precision stainless steel needles for various process optimizations

It comes with multiple types of auger screws model to handle various types of material

Optional jam detection encoding system

Optional syringe level detections and low-level alert functions

Easy to clean and maintain. High chemical resistance stainless steel makes the valve body easily cleaned by using an ultrasonic cleaner
Our Auger Pump Application
HeliMASTER 3 flow, capability and application test result video.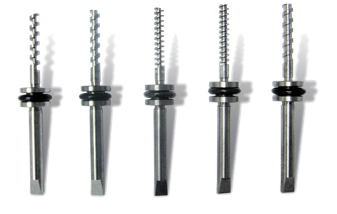 Different types of NSW Auger Screw
Auger Screw Valve Control
Auger Valves are designed for high viscosity applications that demand precise volumetric accuracy. It includes a precision motor and NSW in-house master-crafted gears & auger shafts that ensure peak and consistent torque to dispense medium to exceedingly high viscosity fluids effortlessly. It is built to dispense beads as well as micro shots. This positions it as a versatile microdispensing system for applications involving a wide range of solder paste, glue, silicones, adhesives, semisolids, gel, solvents, cream, and epoxies. Auger Valves are highly appropriate for applications like dam and fill, sealing, encapsulation, and dabbing.
| | |
| --- | --- |
| Model | HeliMASTER 3 as known as "HM3" |
| Software | NDisp3 (NSW Advanced Dispensing Software) |
| Valve Control | Auger Screw |
| Volume Resolution | N/A |
| Fluid Viscosity | Up to 1,000,000 Cps |
| Reservoir Volume | N/A |
| Material Outlet Port | NSW Precision Needle / Standard Luer Lock Needle |
| Weight | 950g |