SynchroPULSE uses advanced squeezing technology to dispense liquid. It is the latest flagship pump head that is developed for NSW superior dispensing systems.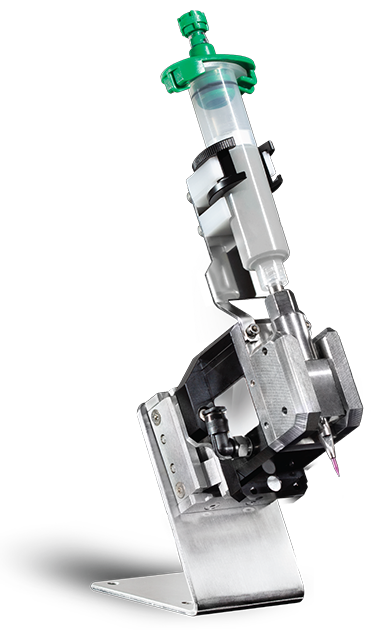 High
Flexibility
(Pump conversion)
Our New Flagship
Squeezing Technology
NSW custom microdispensing technology design pump head enables various types of fluids to be dispensed on a workpieces/board or electronic component at optimal precision with lightning speed.
Patented 'self-suck-back' technology for high repeatable volume control
Latest evolution in fluid delivery technology. It can dispense without squeezing or changing the original shape of material (or fillet size)
Unique 'maintenance-free' design without any mechanical moving or sliding parts
Superior fine volume adjustability. It's smallest adjustable resolution can be down to ≥50 picolitre/pulse. (depending on material's characteristic)
Its perfectly sealed off chamber design enables 'non-drip' features during mass production
Delicate 'quick-latch' design reduces production downtime and improves productivity
It supports high viscosity material dispensing to up to 1,000,000 cps
Compatible with several fine holes dispensing needles. The smallest hole size can be as to Ø25 µm (ID)
Easy to operate & fast to learn
SynchroPULSE Dispensed Result
Dispense Diameter Average: 119.8μm   |    3σ:14(11.7%)
Model

SynchroPULSE as known as "SP Valve"

Control Method
PLC Based + PC Based
Software

NDisp3 (NSW Advanced Dispensing Software)

Valve Control
Squeezing Diaphragm
Compatible Nozzle Size (ID)
Ø25µm, Ø40µm, Ø70µm, Ø100µm, Ø150µm, Ø200µm

Volume Resolution

0.00005 µl (approx. 50 pl)
*Depending on material's characteristic
Fluid Viscosity
5,000-1,000,000 Cps

Reservoir Volume

PP2300D: 0.3110ml
PP2600D: 1.2440ml

Material Outlet Port

NSW Precision Needle
Applicable Syringe Size
10cc
Weight
400g