Let's see some fascinating facts and media on why NSW systems like micro-volume solder paste dispensing have made such a vast world impact.
We Achieved The World's Smallest
Solder Paste Dispensing
as small as

80μm
We are highly recognized for our solder paste dispensing technology. It is capable of dispensing microdots and tiny lines with – something unseen in today's dispenser industry. As a result, our clients trust us for fulfilling challenging dispensing applications. We always rise to fulfil accuracy, performance, and the ability to dispense any volume needed within a targeted range.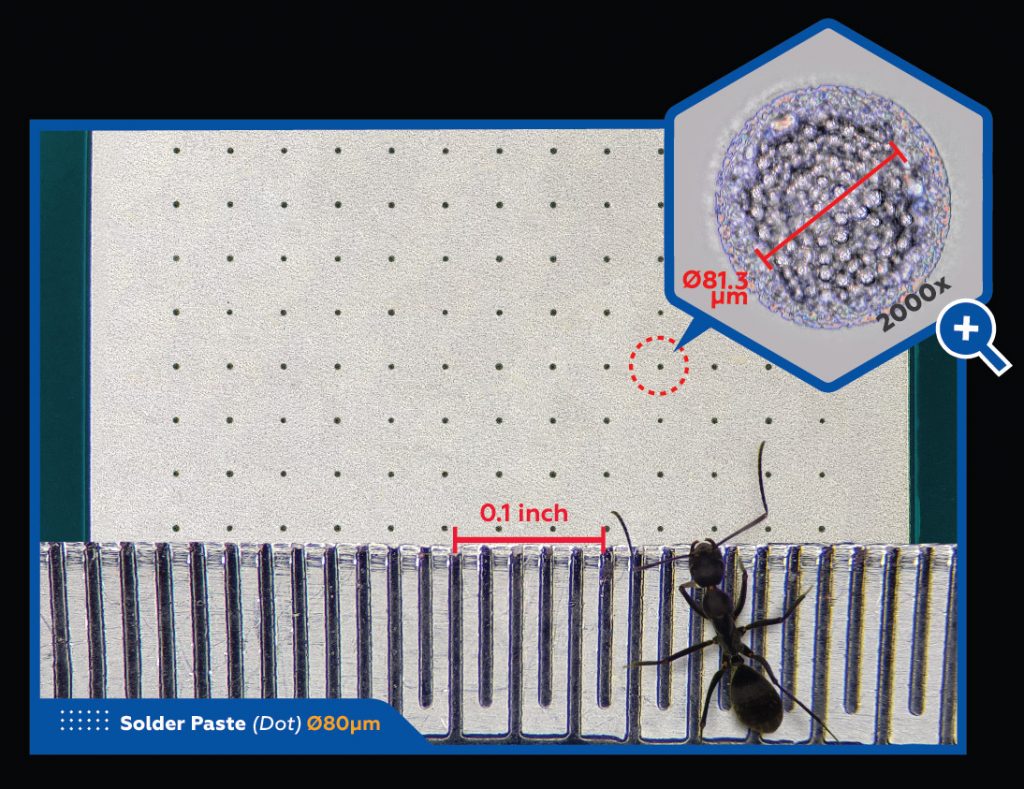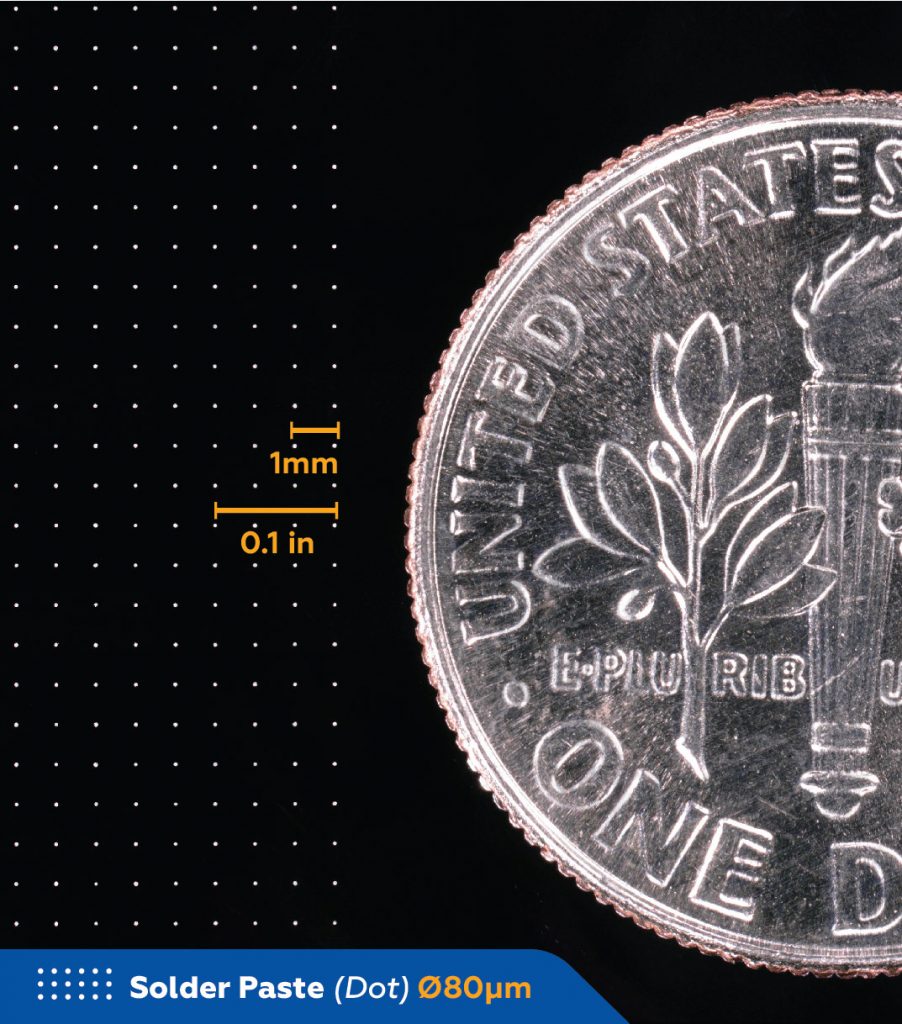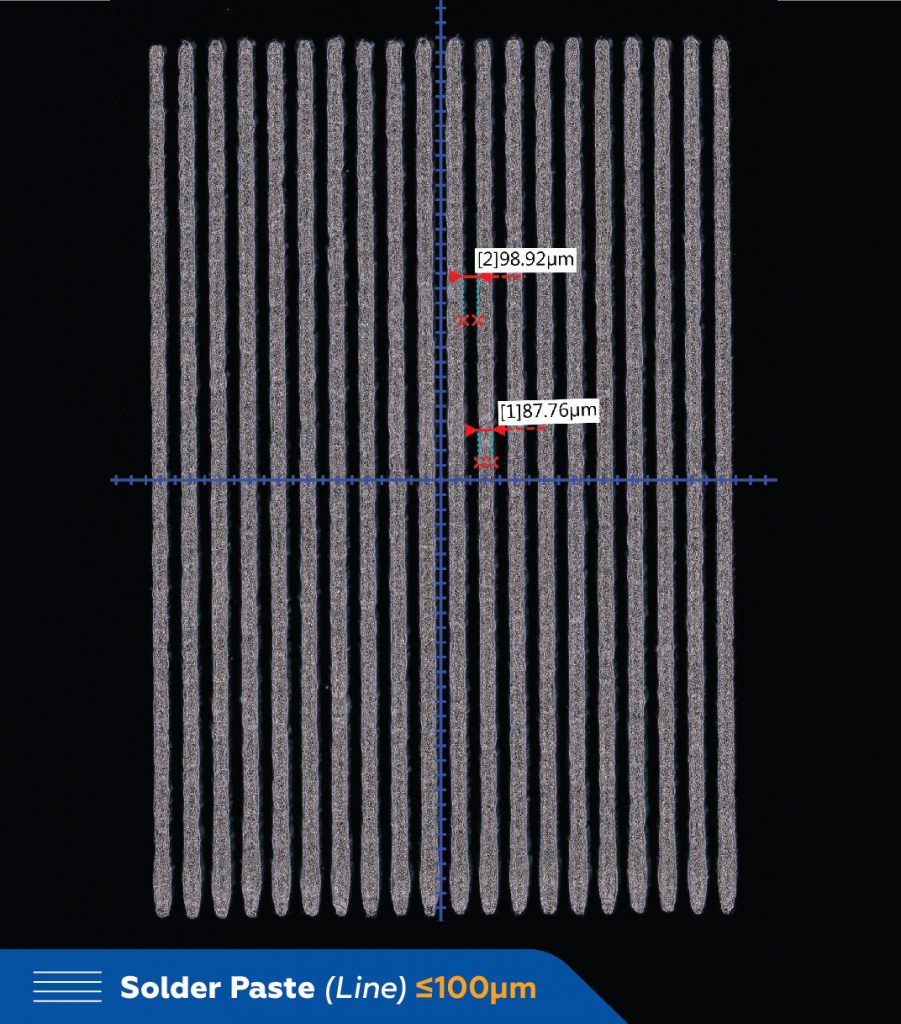 Want Facts in Data?

Let Our Solder Paste Dispensing Report Speak
We let our data do the talking. Each dispensed dot and line are measured to generate these detailed reports.
Our report includes capability analysis such as CPK and STDEV (σ) benchmarks to aid your evaluation.

Dispensing Types:

SychroPULSE Micro Dispensing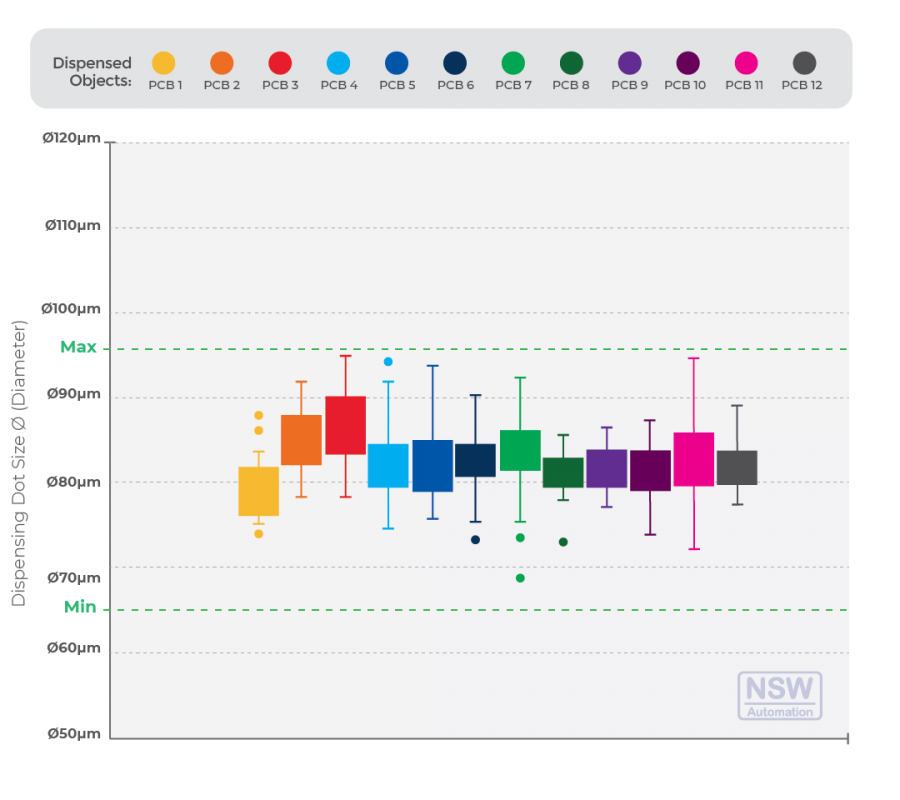 Dispensing Types:

SychroPULSE Micro Dispensing

| wdt_ID | Solder Dots | PCB1 (μm) | PCB2 (μm) | PCB3 (μm) | PCB4 (μm) | PCB5 (μm) | PCB6 (μm) | PCB7 (μm) | PCB8 (μm) | PCB9 (μm) | PCB10 (μm) | PCB11 (μm) | PCB12 (μm) |
| --- | --- | --- | --- | --- | --- | --- | --- | --- | --- | --- | --- | --- | --- |
| 2 | 1 | 82.44 | 80.35 | 83.27 | 84.61 | 79.52 | 79.95 | 84.15 | 79.92 | 77.45 | 81.18 | 75.32 | 82.05 |
| 3 | 2 | 79.51 | 78.25 | 89.86 | 80.34 | 82.02 | 82.93 | 82.02 | 78.34 | 80.36 | 78.26 | 83.79 | 82.95 |
| 4 | 3 | 83.69 | 82.12 | 87.45 | 84.96 | 80.35 | 80.94 | 83.31 | 85.78 | 80.38 | 80.77 | 85.79 | 82.45 |
| 5 | 4 | 79.02 | 78.26 | 90.38 | 80.77 | 86.65 | 78.68 | 84.12 | 83.69 | 79.52 | 79.50 | 78.67 | 82.01 |
| 6 | 5 | 81.60 | 81.64 | 87.61 | 83.27 | 79.53 | 84.57 | 75.32 | 79.50 | 83.27 | 79.11 | 80.76 | 82.93 |
| 7 | 6 | 81.21 | 88.70 | 90.88 | 80.17 | 84.11 | 76.61 | 77.36 | 80.34 | 80.78 | 81.18 | 80.78 | 79.95 |
| 8 | 7 | 79.92 | 89.84 | 87.46 | 80.05 | 87.93 | 81.60 | 82.87 | 79.08 | 80.77 | 80.98 | 87.87 | 81.63 |
| 9 | 8 | 82.12 | 82.90 | 92.89 | 88.72 | 79.09 | 82.43 | 81.59 | 78.69 | 81.72 | 79.12 | 78.72 | 85.84 |
| 10 | 9 | 78.25 | 86.20 | 83.77 | 85.78 | 84.94 | 82.87 | 81.24 | 72.83 | 81.19 | 79.09 | 83.70 | 82.10 |
| 11 | 10 | 81.60 | 87.65 | 87.89 | 79.33 | 80.81 | 85.46 | 83.33 | 79.94 | 85.83 | 86.62 | 85.88 | 83.44 |
Dispensing Types:

SychroPULSE Micro Dispensing

| wdt_ID | Solder Dots | PCB1 (μm) | PCB2 (μm) | PCB3 (μm) | PCB4 (μm) | PCB5 (μm) | PCB6 (μm) | PCB7 (μm) | PCB8 (μm) | PCB9 (μm) | PCB10 (μm) | PCB11 (μm) | PCB12 (μm) |
| --- | --- | --- | --- | --- | --- | --- | --- | --- | --- | --- | --- | --- | --- |
| 2 | 1 | 82.44 | 80.35 | 83.27 | 84.61 | 79.52 | 79.95 | 84.15 | 79.92 | 77.45 | 81.18 | 75.32 | 82.05 |
| 3 | 2 | 79.51 | 78.25 | 89.86 | 80.34 | 82.02 | 82.93 | 82.02 | 78.34 | 80.36 | 78.26 | 83.79 | 82.95 |
| 4 | 3 | 83.69 | 82.12 | 87.45 | 84.96 | 80.35 | 80.94 | 83.31 | 85.78 | 80.38 | 80.77 | 85.79 | 82.45 |
| 5 | 4 | 79.02 | 78.26 | 90.38 | 80.77 | 86.65 | 78.68 | 84.12 | 83.69 | 79.52 | 79.50 | 78.67 | 82.01 |
| 6 | 5 | 81.60 | 81.64 | 87.61 | 83.27 | 79.53 | 84.57 | 75.32 | 79.50 | 83.27 | 79.11 | 80.76 | 82.93 |
| 7 | 6 | 81.21 | 88.70 | 90.88 | 80.17 | 84.11 | 76.61 | 77.36 | 80.34 | 80.78 | 81.18 | 80.78 | 79.95 |
| 8 | 7 | 79.92 | 89.84 | 87.46 | 80.05 | 87.93 | 81.60 | 82.87 | 79.08 | 80.77 | 80.98 | 87.87 | 81.63 |
| 9 | 8 | 82.12 | 82.90 | 92.89 | 88.72 | 79.09 | 82.43 | 81.59 | 78.69 | 81.72 | 79.12 | 78.72 | 85.84 |
| 10 | 9 | 78.25 | 86.20 | 83.77 | 85.78 | 84.94 | 82.87 | 81.24 | 72.83 | 81.19 | 79.09 | 83.70 | 82.10 |
| 11 | 10 | 81.60 | 87.65 | 87.89 | 79.33 | 80.81 | 85.46 | 83.33 | 79.94 | 85.83 | 86.62 | 85.88 | 83.44 |